Brenda Kay Fellhoelter is a Web designer located in Chillicothe, Missouri. Brenda began designing Web sites in 1999 after resigning as Public Relations and Marketing Coordinator for Green Hills Telephone Corporation, a local Internet Service Provider.
Executive Board Member of the Chillicothe Chamber of Commerce serving as President in 2004 and serving on numerous committees including Ambassador Coordinator and Missouri Community Betterment chairperson, six years.
Former Executive Board Member of the Grand River Area Family YMCA serving as Secretary two years and board member, six years
Former member of Chillicothe Rotary Club, serving as District Secretary in 2003-04 and Club Secretary 2006-2007.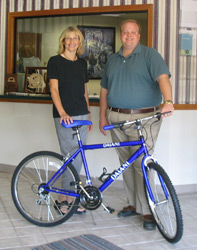 Presenting prize in Chamber fundraiser.
You may reach Brenda by calling 660-646-3094 or by E-Mail.

Click here to find out more about BK.
A note from BK: In addition to the many commercial and government web sites I've created, I am proud to also have donated my web design services to the local Chillicothe Habitat organization, St. Columban Catholic Church, and Bishop Hogan Memorial School.

I serve on the Home of Sliced Bread Committee and designed their pages on the City of Chillicothe's web site (which I also designed and maintain). I've served on the Technical Advisory Committee of the Grand River Area Technical School and was awarded the GRTS Outstanding Service Award in May, 2007. I also was awarded 2006 Chamber Person of the Year by the Chillicothe Area Chamber of Commerce at the 2007 Annual Award Banquet.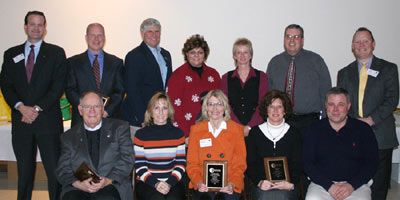 Chillicothe Area Chamber of Commerce Chamber Person of the Year 2006.
BK is front row, center...
C-T Photo January, 2007
I am a board member of the Chillicothe Education Foundation, and have also served on the Chillicothe R-II Schools Facility Committee. Through all my time spent in activities and as a volunteer on a variety of boards and committees, it helps me to stay connected to the communities I serve and the people whose sites I design.
This business founded on Wednesday, June 16, 1999.
BK Web Works, © 2004, All Rights Reserved
10518 LIV 2313, Chillicothe, MO 64601
Email BK